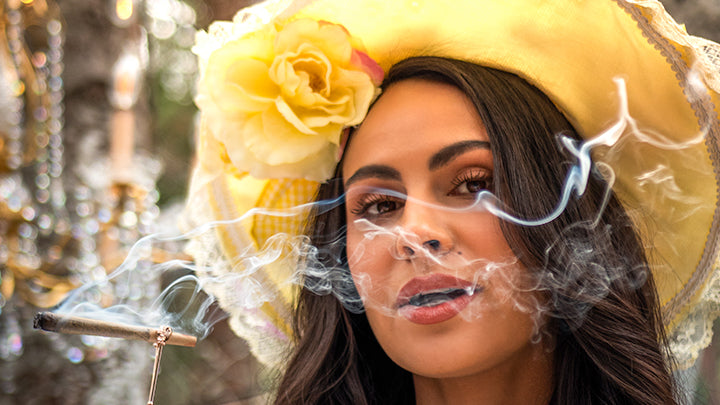 What is Delta-8?
From a botanical standpoint, "cannabis" plants are comprised of both marijuana and hemp. Delta-9 THC – not delta-8 THC – is the cannabinoid molecule recognized as the marijuana plant's main psychoactive ingredient.  FDA stated in its May 4 news release regarding the new warning letters that delta-8 THC similarly has psychoactive and intoxicating effects and may be dangerous to consumers.
Marijuana containing more than 0.3% of delta-9 THC (on a dry weight basis) is federally unlawful under the Controlled Substances Act. But the Agriculture Improvement Act of 2018 (also called the 2018 Farm Bill) legalized the hemp plant and its derivatives containing less than 0.3% delta-9 THC.  Delta-8 THC, which is derived and extracted from hemp via a chemical process, would appear to be a type of legal hemp derivative because the starting plants are considered lawful under the 2018 Farm Bill.  In 2020, however, the U.S. Drug Enforcement Agency promulgated an interim final rule clarifying that any synthetically derived THC is a controlled substance that is unlawful under the Controlled Substances Act.  Therefore, whether delta-8 THC is legal under federal law turns on whether the process used to extract the cannabinoid is the type of synthesis prohibited by the interim final rule.
Delta-8 can be found in smoke shops, novelty stores, bodegas, gas stations, and online all over the United States. But maybe not for much longer.
Why is Delta-8 Controversial?
The federal government is finally taking notice of this glaring loophole in federal drug law. And hemp industry players believe action may soon follow.
On Tuesday, the federal Centers for Disease Control and Prevention and Food and Drug Administration published warnings advising the public of "serious health risks" posed by Delta-8 THC products.
According to the FDA, between December 2020 and July 2021, poison-control centers received 660 calls from people who consumed Delta-8 THC—many unintentionally, almost all of them children, dozens of whom were hospitalized with very familiar-sounding symptoms: lethargy, slurred speech, erratic heart rates, sedation, and even "coma."
Other reported concerns from the FDA include:
Delta 8 products not being FDA approved or authorized
The chemical synthesization processes in which to extract Delta 8 can be done with "unsafe" chemicals, which may leave potentially harmful contaminants in the products.
Manufacturing and packaging can be falsely enticing to children.
Amidst this uncertainty regarding the legality of delta-8 THC under the Controlled Substances Act, FDA issued warning letters to five manufacturers for selling delta-8 THC products in ways that the agency asserts are in violation of the FD&C Act.  Specifically, the letters allege that these manufacturers: 1) marketed delta-8 THC products as unapproved drugs by advertising them as treatments for various medical conditions; 2) provided inadequate directions for use, rendering those products misbranded; and 3) unlawfully added delta-8 THC to food products, among other possible violations of the FD&C Act. 
In September 2021, the Food and Drug Administration (FDA) issued and updated a consumer advisory outlining consumer safety concerns related to delta-8 products. The consumer advisory highlighted the fact that no delta-8 THC products have been evaluated or approved by the FDA, and many of the methods used to derive delta-8 THC synthetically involve the use of potentially harmful chemicals. The Centers for Disease Control and Prevention issued similar guidance warning consumers of the rise in hospitalization reports and adverse event incidents related to delta-8 THC.
One big difference is that, unlike tightly regulated adult-use cannabis, Delta-8 THC is wholly unregulated. And, as the FDA pointed out, there are no requirements around labeling or product quality, or safety.
Looming over all of this, of course, is federal cannabis legalization. If the Delta-9 THC in marijuana was legal, demand for Delta-8 THC—a synthetic product, created to fulfill the market inefficiency posed by drug prohibition—would evaporate. If federal marijuana legalization happens, Delta-8 will be a non-factor.
But if the federal government adds Delta-8 to the Controlled Substances Act, the whole drama will play out yet again, a few years or months down the road, with yet another cannabis product not captured under the law.
What is the Current Delta-8 Status?
For now, Delta-8 is stuck in a legal grey area. The 2018 Farm Bill legalized all hemp and hemp compounds but the DEA still believes it's a controlled substance. One complication of this is the Department of Veterans Affairs is denying certification for a veteran's legal hemp business because it could "give the appearance that" VA is endorsing still-illegal marijuana.
The US Hemp Authority has stopped certifying delta-8 THC products and advises companies to cease producing delta-8
Currently, 20 U.S. states have restricted or banned delta-8 THC and a further four states are currently reviewing its legal status. 
The restricted states are Alaska, Arizona, Arkansas, California, Colorado, Connecticut, Delaware, Kentucky, Idaho, Iowa, Mississippi, Montana, New York, Nevada, Rhode Island, Utah, Vermont, Washington, Michigan, and North Dakota.
The four states reviewing status are Alabama, Illinois, Oklahoma, and Oregon.
Delta-8 is currently available in Texas, Wyoming, New Mexico, South Dakota, Nebraska, Kansas, Minnesota, Missouri, Louisiana, Wisconsin, Indiana, Tennessee, Ohio, Georgia, Florida, West Virginia, Virginia, North Carolina, South Carolina, Washington DC, Maryland, Pennsylvania, New Jersey, Maine, New Hampshire, Massachusetts, and Hawaii.
So, as the many sides prepare to battle over Delta-8 in the courts, you can be assured that Unicorn Brand will keep you updated and informed.